"This one I learned the hard way. I've been told over and over again to race my race. On race day, my body is capable of doing so much. Yes, our minds do have the ability to push us through a certain level of pain to go that extra mile, but our bodies are only capable of so much."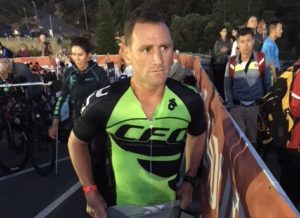 First of all, thank you all so much for your support around the ironman. The emails, texts, social media posts and phone calls were much needed fuel for the long race. Yes, it was long day. Long days aren't necessarily bad days. This was a long day, but a rewarding one. The following post is a race recap that details my day. I do want to begin this recap with my three big takeaways from the event. These takeaways apply to so much that I do both on and off of the course.
Hard work pays off. Training leading in to this race was better than that of any of the previous five ironman races. I attribute this to experience and a growing understanding of my body from physical and mental health to my prosthetics needs. This was the first training cycle that I was able to consistently knock long targeted sessions out consistently. When I look at the data of those pre-race weeks on Trainingpeaks and Strava, the results of the race just make sense. I eagerly chose to beat the sun up over and over again to be on the bike, in the pool or out on the trails preparing for game day. I adjusted my diet for optimal performance. I caught up to the mental game. Not, just mental toughness, but I sought out resources to help me put together a race plan that set me up for success during the day.
I could not have done it alone. I was well coached by Pete Coulson with Champion Factory Coaching. He has continued to provide me with top level coaching from his training plan through adjustments and to the execution. Not every coach has to make adjustments due to prosthetic fit and untimely staff infections. "It's alright mate" were the words I heard over and over again as I frantically came to him with problems. Along those same lines, Peter Harsch, my prosthetics practitioner made weekly and towards the end of the training cycle daily adjustments to both my running and biking legs to keep me training and power me through game day. Also, very importantly, my buddy Adam Zyski flew out to California to make the 8 hour drive north with me and be there on race day as my handler. My wife was, as usual, instrumental in supporting me during hours and hours of training. It's cool to stop for a moment and think about the people who support us in what we're doing.
I have to learn to race MY race. This one I learned the hard way. I've been told over and over again to race my race. On race day, my body is capable of doing so much. Yes, our minds do have the ability to push us through a certain level of pain to go that extra mile, but our bodies are only capable of so much. During this ironman, there were about 1800 other racers out there. I was alright with them. My issue was that I had my eyes set on another racer who raced a race over a decade ago. I was trying to race his race. Rivaldo Martins ran a 9:57 Ironman distance race and I wanted to reach that mark. I got caught up racing his race and although I put together my best race ever and even exceeded my expectations, I came across the finish line angry with myself. It's good to have goals, but I have found that focusing on me and my capabilities is much more rewarding than focusing on everyone else around me. I didn't achieve this in Santa Rosa. I look forward to focusing more on continuously progressing in the future. If I am able to do that, I'll eventually achieve the outside goals that I'm shooting for. When I have the best race I could imagine and I'm not happy with it, why am I doing this?
Race Recap The race went very well. I had to deviate from the plan slightly, but that was expected and overall I was very happy with the results.
Time: 10:20:36 Place: 64th Overall out of 1800 ish
Place: 21st out of my age group (30-34 yr old). (Fast age group)
I did not meet my goal time of 9:57, but certainly made progress over this past training cycle and race. Every course is different and this course was just not the one that I was going to be able to reach the record with the level of fitness and strength that I had at the time.
Swim: Goal 1 hr to 1:03. Time: 1:02
The swim was two laps around a number of buoys in the beautiful Lake Sonoma. I placed myself towards the front of the pack and had a strong first lap at about 29 minutes. Although I felt like I could maintain that effort level for another lap, we had to swim through many swimmers who were starting their first lap. It was challenging getting any rhythm the entire second lap without my swim stroke landing on someone else's leg or back. Everyone had to deal with it and I ended up coming ashore at my goal time.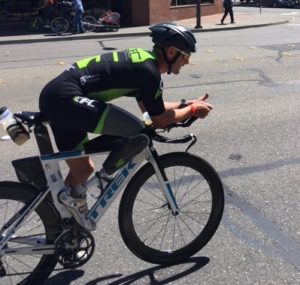 Bike: Goal: 5:00 hrs Time: 5:20:40
Bummer. Yes, the bike portion of this race is what ended my chance to reach that coveted 9:57 amputee record. It was actually the best Ironman bike ride of my life. After looking at my data (Heartrate, Power, Cadence, NP), I am happy with the effort. I compared my power output for this race to the data from Ironman Arizona in which I rode a 5:11. Without getting too nerdy, I rode IM Santa Rosa 11% harder than IM Arizona but went 9 minutes slower. How? The truth is, the bike course in Santa Rosa was more difficult then Arizona and more difficult than I had expected.
Run: Goal: 3:40 Reality: 3:43:59
When I realized I wasn't going to make my bike time halfway through, I did what I promised myself I wouldn't do and I began biking much harder than I had planned. This in turn effects how fast I was going to be able to run. I knew that, but Adam and Peter must have triggered something in me. Leaving transition, I said to myself, "what the heck". I was pretty sure I wasn't capable of running a 3:25 marathon at the end of an ironman, but might as well see what a 7:45 pace feels like. The first 4 miles went by pretty quickly. No cramping, no leg issues. I made sure to drink a lot of water (It was super hot and humid) at the aid stations and even had a shot of energy from a drink of coca cola. After a fast first 8 miles, my pace began to slow to my expected 8:00-8:15 minutes per mile. Due to some slight hills on the course, I decided to stop running with a goal pace. I began running with a goal effort. I wanted to keep my heart rate in between 151 and 155 bpm. This allowed me to remain consistent and not over exert on the run. It was the best run I had ever had during an ironman. I stopped to take my leg of 5 times during the race. The sweat under the prosthetic leg built up fast and I had to drain it and dry it off. Running down the red carpet to the finish line actually gave me some chills and goosebumps. I'd been picturing that moment in my head for the past 3 months during difficult training workouts. Link: https://youtu.be/CfWx3vfLhho
Post Race: I ended up in the medical tent again. I went down pretty hard after the race. I guess I left it all out there. Fine with me. It was a long day, but it was a good day.
I look forward to taking what I learned from training through race day to prepare for the future.